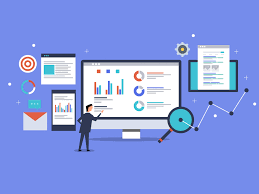 If you are thinking about spending money on your ads so that it can reach your target audience, you should know the place fit to spend on. We are talking about a place with over 246 million individual visitors, 3.5 billion interactions per day, and an approximated 700% return on investment(ROI). We are talking about none other than Google Ads.
Two years after Google.com became the most famous website worldwide, they launched Google Adwords, which was later renamed as Google Ads when they did a rebranding in 2018.
What is Google Ads?
Google Ads is a sturdy program, especially for small online businesses. If you know the price and margin of your product or service, then practicing Google Ads is something you should make.
This platform is a paid advertising program that falls under a marketing approach known as pay-per-click(PPC), where the advertiser pays per click or per impression (CPM) on an advertisement.
If you produce a great ad campaign, you have a high probability of gaining more clicks and a high chance of a fresh lead or a customer. Ads from the platform reach several sites, like Google, YouTube, Blogger, and millions of other websites recognized as the Google Display Network.
What really gets the attention of most online marketers is the 3 to 10 times return on investment. However, this fact is still not enough for some business owners who are afraid to dive in. Why? Because they think that setting up a Google Ads campaign is very hard. But mind this: Google Ads is beneficial for big and small businesses. That is a fact!
Lucky for you, we have compiled a list of facts that will hint and guide you to achieve success for your Google advertising approach.
Expert Tips for Your Google Ads Campaign
With a fast-changing pace, you need to always stay relevant in the search network. Why? Because the strategies that worked well in the past year, 2018, may not work as effectively in 2019. The changes happen in the blink of an eye.
So, how do you keep up?
Follow this guide.
Make Your Bidding Automated
In the "Rules" section of your Google Ads dashboard, you can devise automated rules for account optimization. From there, you can instruct Google Ads in managing situations in your account, like raising your ad spend when the average cost per click is small. Directive Consulting operates with a bunch of big accounts that constantly start and stop campaigns based on the iterative display.
That is a nightmare for your management. It eats up a lot of your time in monitoring a campaign performance to the needed level of granularity. And the risk is very high when it comes to spending too much and missing something. To evade any risk, you can use  Shape.io to manage your funds and ad spends across so many various campaigns that are simultaneous.
Drive Content Success with Google Ads and Facebook
Most businesses will tap the search engine results pages(SERPs) and aim for the bottom of the funnel keyphrases. This is because keywords imply that someone wants to purchase a product or service as soon as possible.
But things are different in content engagement campaigns because these people probably never heard of your brand ever since. Here's what you can do:
Publish a blog post for Kinsta about a certain topic. If it reaches the top of Hacker News, it could end up with your site getting a regular 400 or more collective visitors all day long. In just a matter of hours, your post can rank on the first page of SERPs.
This happens because you are paying Facebook and Google Ads to boost your website's organic rankings. You create good content, attach paid syndication, and watch keyword rankings rise up on the results pages.
Kinsta's main purpose with content promotion is to drive traffic and get the most attention it can have. Then,  they will apply display retargeting and RLSAs on Google Ads, marking the ones who just visited with lead generation grants to commence a free trial or a money back pledge.
Apply Device Targeting
Device targeting can create or destroy your campaign's proposal messaging. The landing pages of your site should be treated separately if they are on mobile and if they are on desktop. Some pages are responsive on desktop but not on mobile because the structure was not fitting.
Even if lead gen campaigns are usually better possessed for desktop, you should still pay close attention to your pages' mobile appearance. Especially because many searchers are turning to their cell phones nowadays.
Don't neglect Google Display Network
Google's Display Network produces a tremendous 180 billion impressions each month, with campaigns that can reach up to 80% of all internet users worldwide. That's why, as a marketer, you should make use of this. Many content writers have remarked that these tactics to ads have improved their traffic up to 300%.
The platform lets businesses to put visually pleasant adverts in front of huge target audiences, in a sense that can help produce vital levels of recognition.
Use Conversion Optimizer
To get the most out of Ads, you should use Google Optimize. It is an integral tool that runs by setting bids at the keyword level, letting advertisers gain conversions at a cheaper cost-per-action than would otherwise be accessible. Google's own stats say that advertising campaigns that practice Optimize gain a 21% boost in conversions, while also reducing their cost-per-action by 14% on average.
Conclusion
Making a Google Ads campaign can be a challenge, but it can get easier once you practice the tips given above. Besides, we have already discussed its reach and authority, giving you the idea that it is a great tool for driving traffic. Applying the procedure and data presented earlier, you have what you need to perform a prosperous Google Ad campaign that attracts clicks and converts leads.