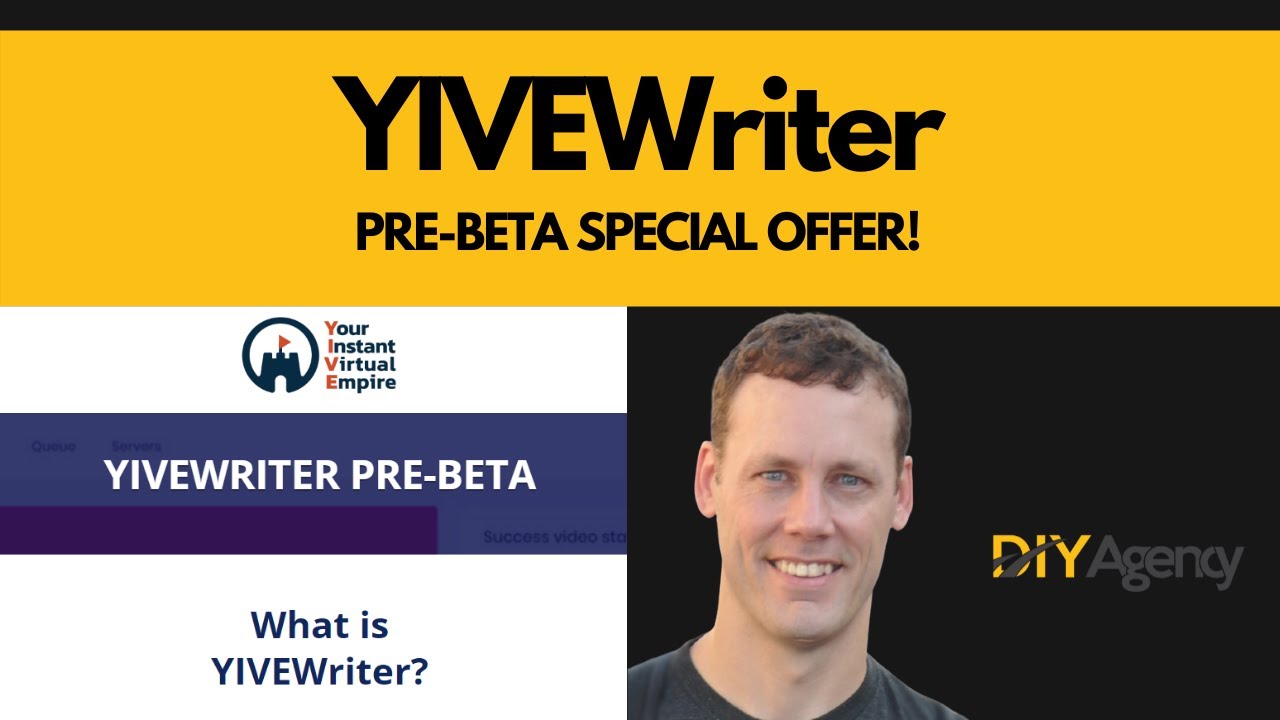 #yivewriter
Check out the details from Marcus (creator) below:
***The Pre-BETA opening will remain open for 14 days. The price will increase next week, so make sure to lock in the lowest discount today.***
YIVEWriter Pre-BETA is now open at: https://diy.agency/recommends/yivewriter/
App access will open approximately on July 1, 2022
********************************
Original Email:
Many of you have communicated with me how much you dislike the auto-content generator used for the various YIVE apps. This is a 3rd party app we used to enable content generation based on keyword, a necessary component to generate regular content.
As a stop-gap we created API connections to ArticleForge, which many of you have used, but most of you don't like the subscription model.
We began a year ago developing our own solution. This has not been easy!
We set out to create a solution that would tap into a variety of NLP models to create content in real-time based on keyword inputs. This solution is now in the final stages of testing for launch.
On Sunday at 12:00PM US EST (noon) (GMT-5) we will open up a pre-BETA sale for a lifetime deal.
The future system will operate on a credit system and a subscription model. The pre-sale BETA license will not require either of those.
The price that will is offered will never be seen again, even if we do other lifetime deals. In fact when the BETA goes live the lifetime deal price will be much higher than this deal will be. In other words, this is heavily discounted.
Thanks,
Marcus
🔥▬▬▬▬▬▬▬▬▬▬▬▬▬▬▬▬▬▬▬▬💰
Don't Forget to Subscribe!
Be sure to Like & Follow as well!
🔥▬▬▬▬▬My Favorite Tools▬▬▬▬▬💰
🔥Google Ads Audits: https://diy.agency/recommends/ppcadlab/
🔥YouTube Keyword Research https://diy.agency/recommends/keywordsearch/
🔥AI Powered Article Creation: https://diy.agency/recommends/ai-copywriting-tools/
🔥▬▬▬▬▬My Favorite Affiliate Programs▬▬▬▬▬💰
💰Coinmama: https://diy.agency/recommends/coinmama/
💰Go HighLevel: https://diy.agency/recommends/ghl/
Demo:https://youtu.be/f6CHtjT59gw
💰Marketing Boost: https://diy.agency/recommends/marketing-boost-affiliate-program/
Demo: https://youtu.be/gqF__GEmswg
#diyagency
*************************
Affiliate Disclosure:
This video is brought to you by DIY.Agency/814Interactive. We highlight products and services you might find interesting. This video and description may contain affiliate links. Clicking links or purchasing products recommended on this page may generate income for this website from affiliate commissions and you should assume we are compensated for any purchases you make. We also may receive products & services free of charge for similar review purposes. This does not drive our decision as to whether or not a product is featured or recommended. Our goal is to help you make the best purchasing decisions, however, the views and opinions expressed are ours only. You should do your own due diligence to verify any claims, results and statistics before making any kind of purchase.